Winnebago Sunstar Exterior Options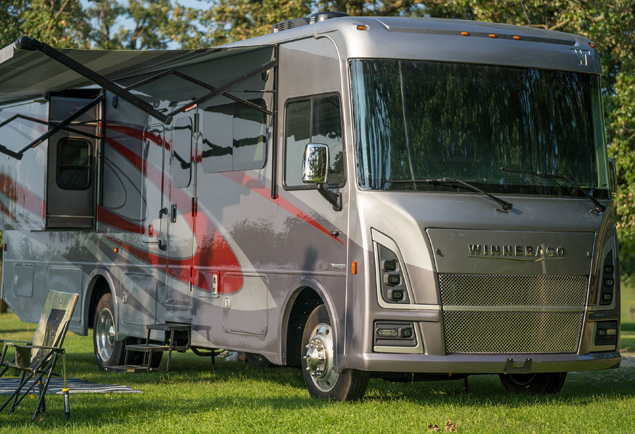 Onlookers will be impressed by the Sunstars Full Body Paint options as well as Deluxe Exterior Graphics. The Winnebago Sunstar is available with 5 exterior options including Deluxe Exterior Graphic Options: Flintstone and Deep Sea and Full Body Paint Options: Moonlight, Cloud Burst and Toreador.

The Winnebago Sunstar 29V is also available in a National Park Edition. The National Park Edition features outdoor-inspired style.  The Sunstar NPF Limited Edition is designed in partnership with National Park Foundation. Enjoy enhanced outdoor living in the Winnebago Sunstar NPF edition. The Sunstar NPF model includes a batwing awning that overlaps the standard armless patio awning providing (2) sides of seamless wraparound protection and 310 sq. ft. of covered exterior living and entertaining space. The exterior kitchen in the NPF Sunstar included in the Tailgate Package is perfect for entertaining or cooking while relaxing and enjoying the outdoors. The exterior galley includes a refrigerator, sink, Quick-Connect LP hose for a portable stove or grill and other convenient accessories. The Winnebago Sunstar National Park Foundation Edition is available in 2 exterior options including: Glacier and Canyon Land. 
DELUXE GRAPHIC OPTIONS

SUNSTAR DEEP SEA EXTERIOR


SUNSTAR FLINTSTONE EXTERIOR


FULL BODY PAINT OPTIONS

SUNSTAR MOONLIGHT EXTERIOR


SUNSTAR CLOUDBURST EXTERIOR


SUNSTAR TOREADOR EXTERIOR


National Park Edition Options

SUNSTAR NATIONAL PARK EDITION GLACIER EXTERIOR


SUNSTAR CANYONLANDS EXTERIOR